The King's Business School-NISAU India Series is hosted by Dr Kamini Gupta of Kings' Business School and Sanam Arora of the National Indian Students and Alumni Union, speaking to thought leaders across sectors to examine how India can leverage its unique resources and capabilities to claim its place as a global superpower, and how challenges to this transition can be overcome.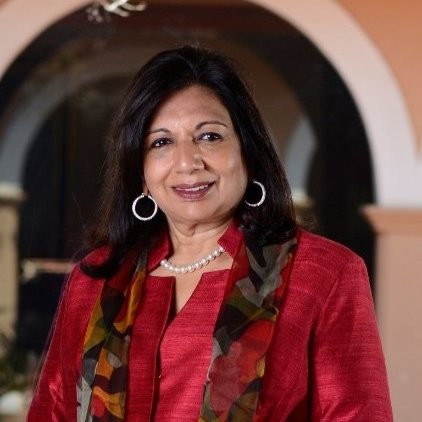 This wide-ranging discussion will explore thoughts on how India can leverage its expertise in Science and Technology to emerge stronger in a post-Covid world; the future of healthcare in India; and the role of sustainability in igniting India's growth engine.

Ms Kiran Mazumdar-Shaw is a pioneering biotech entrepreneur, a healthcare visionary, a global influencer and a passionate philanthropist. She is a pioneer of India's biotech industry and founder of Biocon. She is the proud recipient of two of India's highest civilian honours, the Padma Shri (1989) and the Padma Bhushan (2005). She was also honoured with the Order of Australia, Australia's Highest Civilian Honour in January 2020. In 2016, she was conferred with the highest French distinction - Knight of the Legion of Honour.

She has most recently been named as the winner of EY World Entrepreneur of the Year™ 2020 Award, which is a testimony to her entrepreneurial journey of over four decades. She has been ranked as one of the world's top 20 inspirational leaders in the field of biopharmaceuticals by The Medicine Maker Power List 2020. She was felicitated with 'Advancing Women in Science and Medicine Award for Excellence' in 2017 by The Feinstein Institute for Medical Research, USA.

She holds key positions in various industry, educational, government and professional bodies globally. She has been elected as a full-term member of the Board of Trustees of The Massachusetts Institute of Technology (MIT), USA. She has been elected as a member of the prestigious USA based National Academy of Engineering (NAE). She also serves as the Lead Independent Member of the Board of Infosys Ltd and Non-Executive Director on the Board of Narayana Health.

Ms Mazumdar-Shaw believes in compassionate capitalism and is the first woman business leader from India to sign the Giving Pledge, an initiative of the Gates Foundation, committing to give the majority of her wealth to philanthropic causes. She is very passionate about innovation and mentors many science-based start-ups.